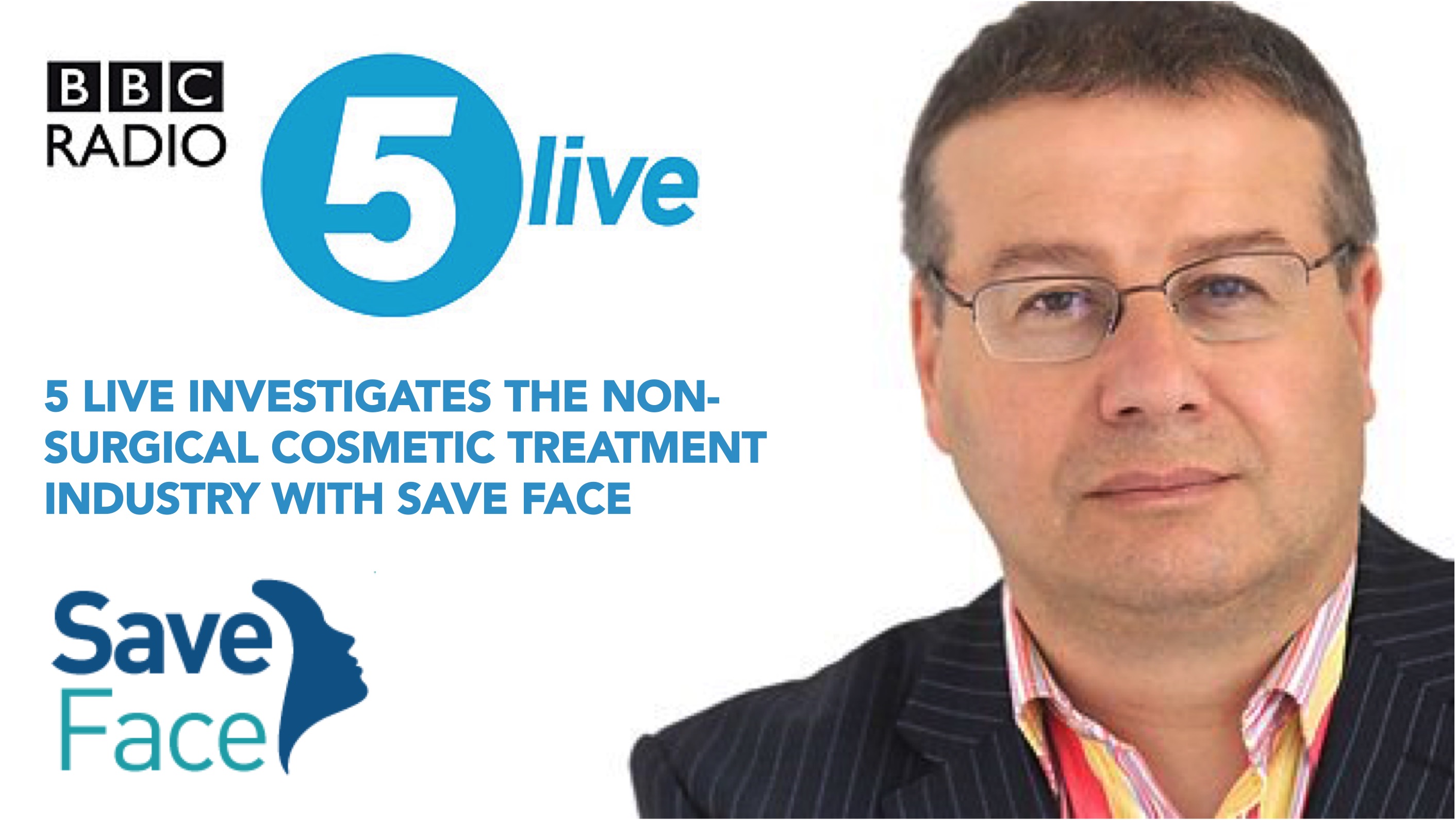 Save Face led an investigation with BBC 5 Live to shine a light on the unscrupulous practice that is prevalent within the non-surgical cosmetic industry, bringing in to focus the key challenges consumers face when seeking to find a safe, reputable treatment provider.
The show gave a detailed and harrowing insight as to how people seeking such treatments are being targeted, mistreated and ignored when complications occur by an ever growing number of people masquerading as medically trained practitioners.
The focal point of the show was about the hellish experience of a lady called Rachel who came to Save Face for help after having a treatment with someone she thought was a nurse and a reputable practitioner. After spending over £600 she was left scarred, bruised and in emotional turmoil having discovered that she had not been treated with the product she wanted and had no idea of the suitability, side effects or efficacy of the product which was actually administered.
After several attempts to contact the practitioner, several weeks passed by and the symptoms and side effects of the botched treatment continued to worsen. Left in complete isolation and feeling like she had nowhere to turn she contacted Save Face for advice and guidance.
Upon investigation Save Face quickly discovered that the practitioner was in fact not a nurse and had been illegally posing a fully trained aesthetic nurse prescriber since 2010 once again bringing the whole industry into disrepute.
Save Face were able to offer the much needed support, advice and guidance and connected the lady with an accredited practitioner, who thankfully was able to reverse the complications.
Here's what Rachel had to say about the help and support Save Face provided
"After having the fillers in my cheeks I was left with a lumpy face and felt so depressed and anxious as knew it felt wrong. I was in a bad space for weeks and could not leave my house without disguising myself. Finally I discovered Save Face. It was such a relief when I spoke them as they gave me so much constructive advice and guidance.

Save Face even investigated the person that carried out the procedure and discovered that she was not a Nurse as she claimed to be and have helped to expose her illegal activity and bring her to justice.

They also arranged for me to see one of their Accredited Practitioners Doctor that gave me a full break down of the product and reversed the procedure. I wish I had known about Save Face as they are extremely professional and I can only advise that anyone thinking about getting any cosmetic procedure done you should think twice and use a professional body like Save Face to make sure they are using a reputable practitioner as had I known earlier this could have saved me hundreds of pounds and the trauma of living with a lumpy face for weeks".
Sadly, this is not an isolated incident and is representative of the very real situation people regularly find themselves in throughout the UK.
This highly unregulated industry has become a hotbed for those wanting to capitalise on the lucrative earning potential from this £2.75bn industry which sadly comes at the cost of those that they treat.
With rogue, unqualified practitioners on the rise, show was demonstrative of just how easy it is for consumers who are seeking treatments to fall in to the wrong hands.
Since the revelations that emerged from the Keogh review, the government has done little to offer any form of action to protect those seeking non-surgical cosmetic treatments, leaving the consumer completely in the dark, with no clear and defined way of keeping safe.
Without a self-regulatory vehicle like Save Face which connects consumers seeking non-surgical cosmetic treatments with safe, verified and accredited practitioners the landscape of the industry will never change.
This case and so many others like it is a strong reminder as to why it essential to know that the practitioner you choose to visit for any non-surgical cosmetic procedure has all of the necessary qualifications, insurance and knowledge needed to deliver safe and fantastic treatment outcomes.
The truth is, without proper training, the results of any non-surgical cosmetic intervention can be disastrous.
Thankfully, now, identifying a safe, medically qualified practitioner's has never been easier. If you are considering a treatment, you needn't worry or spend time scouring the internet trying to differentiate between the good, the bad and the indifferent, because Save Face has visited each and every one of their accredited practitioners to ensure that consumers are in safe hands, using safe products in safe environments.
The show was aired on Sunday the 31st of May at 11am and was hosted by the renowned investigative journalist and former Watchdog reporter Adrian Goldberg. To listen to the podcast click here.