As Samantha Neyland approached her 50th birthday last May, she decided that a "thread face lift" would help to "freshen" her look.
"I had seen it all over Instagram and it just looked very straightforward", she said.
However, five months later she was having surgery under general anaesthetic to remove the threads and swathes of infected tissue from her face. The subsequent scars will likely remain for life.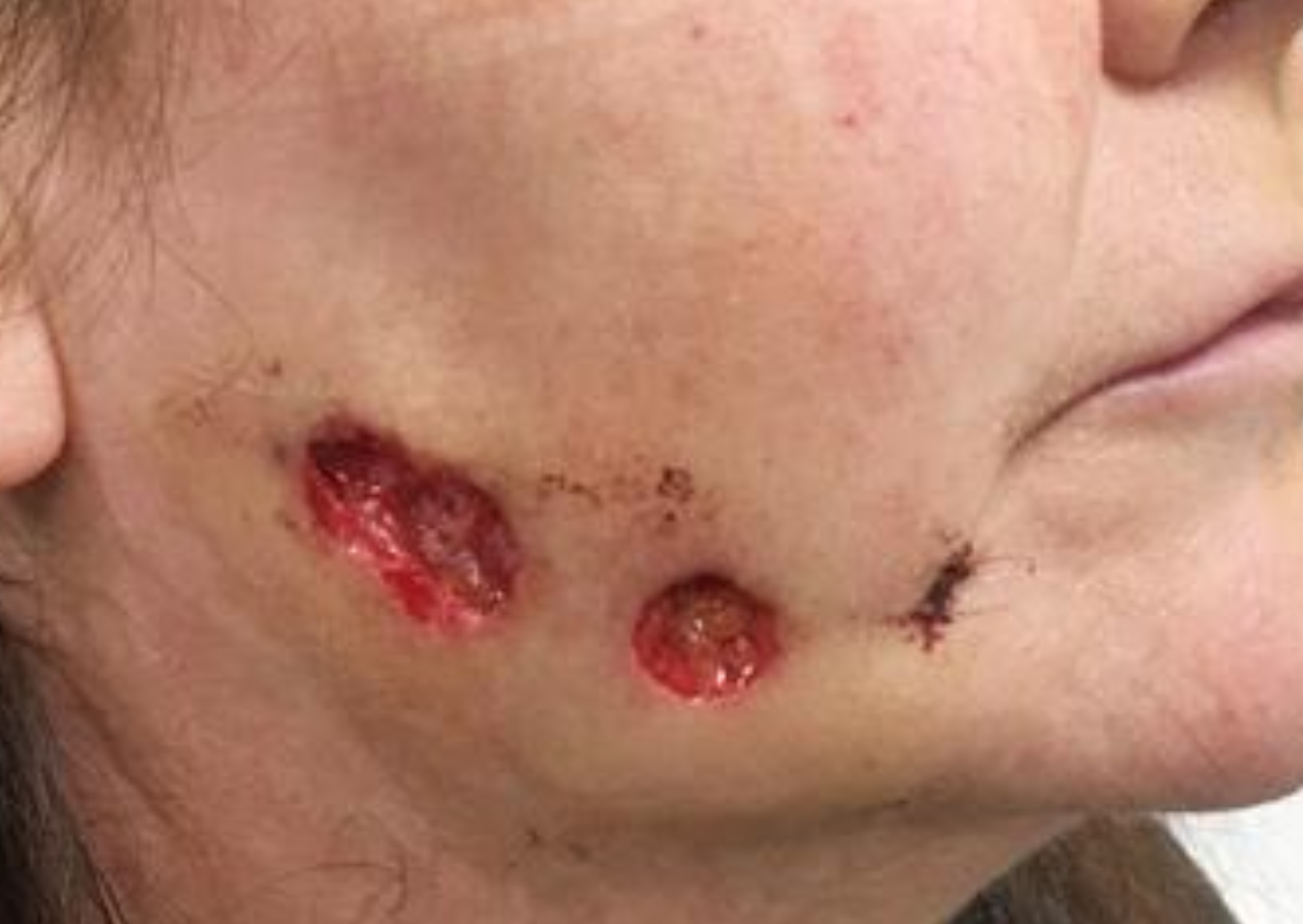 Neyland is among a soaring number of women reporting complications after thread lift treatments, which involve different types of threads used to lift any part of the face. The two main types, made of either poly L lactic acid (PLA) or polydioxanone (PDO), have collagen-stimulating properties and are resorbable. The threads can be smooth or consist of barbs, cogs, anchors or screws to reposition the tissue.
Sarah, the Duchess of York, has reportedly had a form of the treatment, as have the actress Eva Mendes and the make-up artist Huda Kattan, while Goop, the lifestyle site founded by the actress Gwyneth Paltrow, has previously endorsed thread lifts.
According to Save Face, a national register of accredited practitioners who campaign for improved safety standards, complaints about thread lift treatments almost tripled to 213 last year compared with 74 in 2020.
The organisation said that victims typically fall into two groups. Older women over 40 usually opt for "thread face lifts" as part of efforts to appear younger, while younger women between the age of 18 and 30 are increasingly choosing "fox-eye lifts" in a bid for almond-shaped eyes.
Ashton Collins, director of Save Face, said there was a "frustration" that there has been so little focus on the dangers around threads.

Her organisation has seen "some horrendous complications" with "infections that have been deep-rooted in people's faces", or occlusions. Threads that have been inserted into women's faces incorrectly are very difficult to remove without surgery, which can have lasting effects. Collins added: "They have been left permanently disfigured and scarred for life with quite deep dents in their faces."
Neyland, from Swansea, who has been supported by Save Face over the past year, booked with someone that she thought was a reputable practitioner.
After treatment, the right side of her face was left painful and swollen. Boils began forming within a month.
At one point she ended up in A&E, where "they just said, 'We don't know anything about this', and sent me home", she recalled.
Face masks were still being worn at the time, but Neyland felt unable to go out with friends or do any face-to-face work with her job.
"Because it's on your face, you can't hide it", she said. "That was the worst part of it." It took months to find help and Neyland had to pay for corrective treatment privately. She had surgery last October and is set to have further treatment for her scar tissue.
Dr Victoria Manning, of River Aesthetics, who helped Neyland, was not shocked by her appearance "because we're seeing so many more cases like this".
She said that "incorrect training, incorrect placement and the wrong threads being used" were often factors that can lead to complications.
Neyland claimed that she went to a nurse for her thread lift, but there are fears over the scores of unqualified beauticians carrying the treatments.
The rules are different in Wales but in England, providers offering thread lifts carried out by healthcare professionals must be registered with the Care Quality Commission (CQC), who deem it a surgical procedure.
However, this does not apply to non-medics, who can carry out the treatment without regulation.
There are a number of courses being advertised which offer training that can be carried out in just six hours.
An advertisement seen by The Times even boasts, "No CQC requirements for non-medics!' and assures that participants can still get insurance.
Another states that trainees will be "ready to start practicing immediately" after one day of training.
One teaches how to insert PDO threads solely through an online course.
Barbara Bellinger, who is in her forties, required corrective treatment after a thread facelift carried out in 2020 by a woman who was training a student.
She had booked in for the procedure after seeing it advertised on Facebook for a heavily reduced price of £400.
"They said it was non-invasive, a thing you could do in your lunch hour, that it wouldn't hurt, it was quick — and that the results would be amazing", she said.
However, after the treatment she felt something "snap" in her face and within a few days, threads were poking out through her lip and eye.
Bellinger added: "It was horrendous. I ended up going to A&E thinking, 'I need to get these out of my face'. They wouldn't touch me." She was able to have corrective treatment and avoided any lasting damage.
Dr Cormac Convery, a cosmetic doctor who is also vice-chair of the Complications in Medical Aesthetics Collaborative, said that the marketing around treatment often "trivialised" the risks.
"It is not a lunchtime thing at all", he said. "It's a mini-surgical procedure that has significant risks and problems that can be quite enduring." The procedure is "considered a step up" from injectables and he remains concerned about the number of non-medics carrying it out.
Earlier this year, the government announced its intention to introduce a licensing regime for non-surgical cosmetic procedures such as Botox and fillers, although this will not prevent people without medical qualifications from performing them.