'Trust Me I'm a Nurse' – Save Face contributed to an explosive investigation exposé BBC 1's Inside Out which exposed two disgraced Nurses, who despite being struck off by the NMC continued to operate Botox parties and home clinics on a vast scale throughout the UK.
For the past few weeks Save Face have been working on an investigation with BBC's Inside Out West Midlands to shine a light on the unscrupulous practice that is prevalent within the non-surgical cosmetic industry, bringing in to focus the key challenges consumers face when seeking to find a safe, reputable treatment provider.
The 30-minute show was aired on Monday the 7th of March at 7:30pm on BBC 1 to a captive audience of nearly 4 million viewers. Save Face Director, Ashton Collins, who initiated the investigation in to one of the disgraced practitioners, James Kearsey has been working alongside the BBC throughout the investigation and was featured on the show.
It depicts a harrowing view as to how people are being deliberately deceived and manipulated by two unscrupulous former healthcare professionals who continue to masquerade as registered Nurses to exploit unwitting consumers in to parting with their money.
The show's focus is centered on two disgraced nurses, Jonathan Henk, who calls himself "Jonny Botox and James Kearsey who advertises his services via Facebook on the page Estetica Cosmetics, and also describes himself as a nurse prescriber.
Both men, who, despite being struck and deemed unfit to practice by the NMC continued to run highly successful and lucrative businesses by providing non-surgical cosmetic treatments on a gargantuan scale throughout the UK whilst fraudulently using their former credentials to gain the trust and confidence of their patients.
Mr Henk, 50, describes himself as a nurse of 26 years, but was struck off by the NMC in 2012 for having sex with a mental health patient without her consent.
He is now offering Botox to people for £200 a time; it is still unclear how Henk actually sources the prescription only medicine. When confronted by the BBC Henk was asked but refused to divulge his source. This raises a number of serious concerns; either Henk is working with a qualified prescriber who is flouting the law by not holding a face to face consultation with every patient. Alternatively, he is sourcing the product illegally via the 'dark web' which puts patients as serious risk because the contents of the medicine are unknown and come with no guarantees of safety or efficacy.
An undercover reporter filmed him at a Botox party at a house in Wolverhampton, where he injected three women.
Mr Henk offered to give our reporter as much Botox as required.
Wearing gloves and taking the syringe from a flask, he prepared to inject her before she told him she had changed her mind.
James Kearsey advertises his services via Facebook on the page Estetica Cosmetics, and also describes himself as a nurse.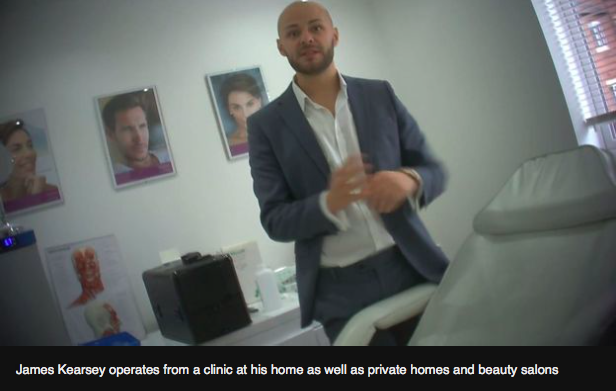 But in November 2015 he was suspended by the NMC after hiding a conviction for assault from his bosses at Russells Hall Hospital, Dudley.
Mr Kearsey agreed to a consultation at his home in Stourbridge, where he told our reporter he was a nurse consultant - "the same level as a doctor" - and that he makes thousands of pounds training others.
He sterilised her forehead and prepared to inject her before she told him she felt sick and left.
When later approached by the BBC reporter as he attended a clinic in Blackpool, Mr Kearsey said "no comment" and ran away.
Both cases are a startling reminder of the importance of Save Face who undertakes all of the necessary checks on the patient's behalf. James in particular highlights how important it is for consumers not to take practitioners at face value. His clinic is sleek and has all of the furnishings and equipment you would expect to see in a legitimate clinic. His previous medical training has armed him with the necessary paperwork and consultation skills you would expect from a registered healthcare professional, he answers all of the patient's questions confidently and without hesitation and talks extensively about his qualifications and experience. Even to the most knowledge of people, who have conducted extensive research and have asked all of the right questions James would seem like a safe and credible choice.
Sadly, this is not an isolated incident and is representative of the very real situation that is happening throughout the UK where an increasing number of consumes are being targeted, mistreated and ignored when complications occur by an ever growing number of people masquerading as medically trained practitioners.
Since the revelations that emerged from the Keogh review, the government has done little to offer any form of immediate action to protect those seeking non-surgical cosmetic treatments, leaving the consumer completely in the dark, with no clear and defined way of keeping safe.
Without an accessible register like Save Face, which connects consumers seeking non-surgical cosmetic treatments with safe, verified and accredited practitioners the landscape of the industry will never change. Consumers will remain in a vulnerable position to be continuously targeted by these unscrupulous individuals with nothing to measure their suitability to provide treatments other than to take them at face value.
Save Face urge any person who has been treated by either of these men to ask themselves one question; whether they would have proceeded with the treatment if they were aware of the startling facts exposed by this investigation. If the answer is no, then it is vitally important to make a complaint.
Save Face have established strong partnerships and affiliations with the UK's leading media outlets and regulatory bodies and we will continue to work tirelessly to expose bad practice and highlight the importance of our register to the consumer.