At Save Face, we believe good work deserves recognition, so we've decided feature some of our accredited clinics in order to highlight their excellent standards.
This month we are exploring the many benefits of a new and revolutionary vaginal rejuvenation treatment called Desirial. The treatment has been developed specifically to improve women's intimate health and restore confidence during menopause and after childbirth.
Dr Charlotte Woodward & Dr Victoria Manning of River Aesthetics Cosmetic Medicine Clinic in Lymington are extremely excited to be one of the first clinics on the South Coast to be able to offer the treatment to women who may otherwise be suffering the intimate side effects of menopause in silence. In addition to being the only trainers for Desirial in the UK for this procedure, they are the only female doctors currently able to offer the treatment on the South Coast, a factor which understandably, may help to overcome a major obstacle for women who are considering treatment.
As women age, like many other parts of the body, labia majora (the outermost lips surrounding the vagina) lose their youthfulness and can become lax and somewhat deflated due to tissue loss. Changes in this region can be worsened following childbirth and the menopause, leading to both cosmetic and functional concerns for woman.
Is Desirial the Treatment for You? Ask yourself the following questions:
Do you suffer from vaginal dryness?
Is painful sex affecting your relationship & is it putting you off sex?
Does the appearance of your vulva affect your self-confidence?
Do you have painful scars following an episiotomy from childbirth?
Would you like your G-Spot enhanced to attain better orgasms?
If your answer was yes to one or more of those questions, then chances are this could be the treatment for you. Desirial is a new treatment aimed at boosting the sex lives of women over 40 by giving them a designer vagina without the need for surgery has been launched in the UK.
This revolutionary filler 'plumps up' a woman's most intimate areas – which can suffer loss of tone and elasticity in the same way as her face due to falling levels of oestrogen during and after the menopause.
The changes make women feel self-conscious about their bodies. For many women, having an imperfect labia is a source of embarrassment, especially when they have a new partner. This often leads to a loss of self-esteem and also can cause a loss of libido.
As women age the appearance of the vagina goes through hormonal based changes. The area around the vagina can suffer from wrinkling and the folds of the vagina can also alter in appearance.
Chronic irritation can sometimes develop, which results in genuine discomfort during sexual intercourse, exercise (e.g. bicycling, spinning, horse riding) and wearing tight clothes. It can cause recurrent urine infections and general discomfort.
When we are young the vaginal tissue is moist and thick however when we reach the menopause with the declining levels of oestrogen, the vaginal tissue thins.
These age related changes contribute to the apparent dehydration, thinning and loss of elasticity that depicts aged related tissues.
How Does Desirial Vaginal Rejuvenation Work ?
Desirial can be used to rejuvenate the labia majora, conceal the labia minora for a more symmetrical appearance and improve dryness. It can also be placed inside the vagina to improve the hydration in the tissue and for those that require it we can enhance the G-Spot! The wrinkling and laxity can be addressed by two options-using injections of your own fat or now by using a longer lasting dermal filler called Desirial.
Desirial is a hyaluronic acid, a treatment used widely in removing facial lines and wrinkles. The difference is that Desirial has been specially formulated for improving the appearance of the area around the vagina.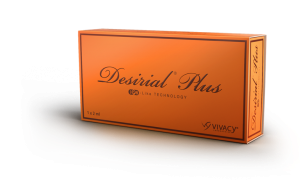 Desirial, produced by the French company Vivacy, combines Hyaluronic Acid with mannitol, a natural antioxidant that is found in fruit and vegetables.
Hyaluronic Acid – which is already used in many facial fillers – behaves like a sponge and can improve water retention capabilities in the vulva-vaginal area. The addition of mannitol, an antioxidant, protects against the breakdown of the gel from free radical damage and preserves the hydrating effect and longevity of the treatment. This helps rehydrate and 'puff up' the area to maintain elasticity, firmness, and the proper functioning of female genital tissue. It also helps reduce any swelling that may occur from the injections.
Desirial is available in two formulations: -Desirial, for peri-menopausal women or in reproductive age suffering from dehydration of the vulva with or without irritation Desirial PLUS – for peri-menopausal, menopausal, and women in reproductive age with signs of moderate to severe withering.
Many women develop laxity and deflation of the labia majora as they age.
Decreases in oestrogen may contribute to ageing in this delicate area just like in the face. After childbirth and around menopause are common times when women notice this problem.
Dr Manning says 'A woman's vagina is a lot like the lips on the face, in that it is prone to volume loss and dehydration with age, particularly during and after the menopause which happens around the average age of 51, when oestrogen levels drop.
'Desirial will allow ladies who might be divorced and embarking on a new relationship with a younger man to improve that area, without surgery.
'With a more youthful vagina she is going to feel more confident about her body.'
When sex is painful you tend to avoid it, which can in turn cause a negative dive in relationships. If you make the experience pleasurable you are more likely to repeat it.
Dr Manning adds 'We know that increased frequency of sexual stimulation either from sexual intercourse or from manual stimulation actually improves the function of the vagina.
She added: 'When I have mentioned it to patients, their first reaction is "Oh my goodness, really?" but as we are already using Botox and fillers on our faces, I think treating this area will become more the norm as time goes on and women see what can be achieved. Women who are looking after their bodies are already very aware of areas they are not happy with.'
However as a GP I am frequently consulted by ladies that are suffering from menopausal vaginal symptoms, but some of these ladies can't or choose not to take hormone replacement therapy. So if there is an alternative now that is non-hormone based, there is now a solution for these women.
The Results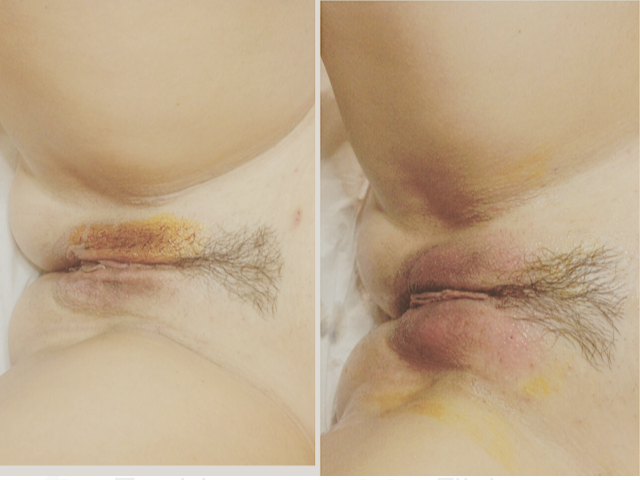 How is the procedure carried out?
The process should take no more than 20 minutes to complete and the effects could last between six and 12 months.
Dr Charlotte Woodward, one of the Clinical Directors of River Aesthetics said;
'local anaesthetic gel is first needed to be applied before the injection; the gel is inserted and held it in place with a tampon. If the outer labia majora is being plumped local anaesthetic is injected into the tissue to be treated'.
Is it painful?
The area is completely disinfected and then local anaesthetic gel
is applied before the injection, to treat both the G-spot and just inside the vagina,
the special vaginal anaesthetic gel is inserted and held it in place with a tampon for 30-40minutes.
For the Labial rejuvenation treatment (your outer lips) local anaesthetic is injected into the tissue to be treated. The product is then injected using either a needle or a cannula into the tissue. After the procedure you will feel a little swollen and sore but this will soon settle. We advise no sexual intercourse for 5 days post the procedure to allow the product to settle into the vaginal tissues and to reduce the chance of infection.
Stay Safe Not Sorry With Save Face
As shown above, the results can be extremely impressive, but as with any non-surgical cosmetic treatment, complications can arise if carried out by an untrained practitioner.
If you're interested in undergoing vaginal rejuvenation therapy, it's vital to choose a fully-qualified professional who will be able to assess your case individually and provide you with the advice, care and follow-up consultations you need to stay safe.
Dr Victoria Manning, one of River Aesthetics Clinical Directors advises 'anyone considering this treatment should only look to trained medical professionals who are trained and experienced in female anatomy.'
She Adds 'Unfortunately, as we know a lot of both trained and untrained individuals have got on the aesthetic bandwagon. In our opinion only clinicians that have been trained in gynaecology or have a General practitioner background should carry out this procedure. It is not just carrying out the procedure that requires experience but more importantly recognizing abnormal vulval and vaginal pathology and being able to act on those findings accordingly, should the need arise. Recently we consulted a lady for a labial puff volumisation treatment, but on examination she was found to have quite marked vulval lichen sclerosis which was the cause of her discomfort and a possible underlying vulval cancer. She was referred onto a vulval clinic straight away. In non-clinical hands this may have been missed.'
Both Dr Charlotte Woodward and Dr Victoria Manning have been practicing GPs for over 20 years and have achieved Save Face accreditation for the second consecutive year, so you can rest assured you'll be in safe hands.
Save Face is the only way for consumers to differentiate between professionally qualified practitioners and the unsafe and unethical.
Use the Save Face search engine today to search our register of Save Face Accredited Practitioners in your area, and stay safe, not sorry.