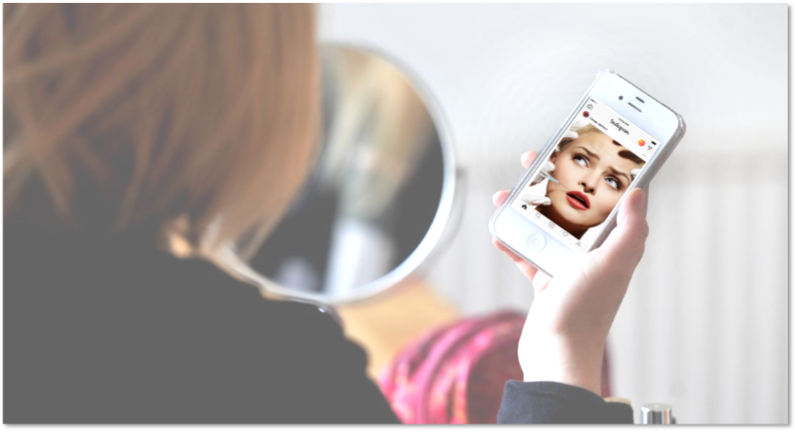 Save Face ,the Government approved register of accredited practitioners is launching a petition with the Cosmetic Surgery Solicitors to urge the UK government to require Instagram to do more to protect young people from having unfiltered access to content from influencers and celebrities that can undermine their self-esteem and stimulate interest in surgical procedures that are unlikely to be suitable for them.
The petition follows a survey from Save Face and Cosmetic Surgery Solicitors that discovered 23 per cent of people who see images that promote or demonstrate the effects of cosmetic surgery and cosmetic procedures report feeling more negatively about their own appearance as a result.
Significantly, this figure dramatically increased in correlation to how young the survey participant was. For example, 38 per cent of 21-25-year-olds and 36 per cent of 26-30-year-olds stated that these images had a negative influence on them, compared to 16 per cent of 45-49-year-olds and 13 per cent of 50-54-year-olds.
These findings follow the 2017 #StatusofMind report from the Royal Society for Public Health (RSPH), which found that, of the top five social media platforms, Instagram has the most negative impact on young people's mental health.
Michael Saul, partner at Cosmetic Surgery Solicitors, says: "Our goal is to protect and support young people on Instagram so they can make a more informed decision should they wish to undergo a cosmetic procedure later in life. Seeing these kinds of images on Instagram can lead to the normalisation of cosmetic enhancements, which in turn can cause anxiety, depression, lack of confidence, body dysmorphia and other mental health-related issues among users.

"In our petition with Save Face, we suggest ways in which Instagram could help to protect young people, including the introduction of an age restriction of 21 on content from verified accounts that specifically advertise, feature or demonstrate the effects of cosmetic surgery and procedures.

"Alternatively, account holders could place a sensitive content warning over their images, which can only be lifted by users who are aged 21 and over, or voluntarily use a hashtag such as #CosmeticFilter to let users know that the content they are posting advertises, features or demonstrates the effects of cosmetic surgery and procedures."
In the survey of 1,010 people, 74 per cent backed an age limit being put in place on images and videos on social media from celebrities and influencers – paid or unpaid – that promote or demonstrate the effects of cosmetic surgery or cosmetic procedures. 35 per cent said the age limit should be 21, and 31 per cent said it should be 18.
Ashton Collins, director of Save Face, says, "It is extremely important that social media companies take all necessary measures to protect young, impressionable people from being targeted by posts that prey on insecurities and set unrealistic and distorted expectations.

"From our experience, these procedures have become so trivialised on social media that they are now considered as beauty treatments and not medical procedures that can cause serious complications.

"These platforms are a hotbed for rogue practitioners, and patients are often drawn in by cheap deals and celebrity affiliations. We have seen first hand the impact these posts have – last year we received 934 patient complaints and 62 per cent (579) found their practitioner on social media."

Of the 579 patients who found their practitioner on social media:
64 per cent per cent chose their practitioner based on price
27 per cent chose their practitioner based on the number of followers and before and after images
9 per cent chose because they thought they were affiliated with a celebrity
This comes as parliament has been debating the impact of social media on the mental health of young people, following the publication of a report from the Science and Technology Committee that described how 'provocative pictures' from celebrities and social media influencers 'can put pressure on young people to replicate that behaviour'.