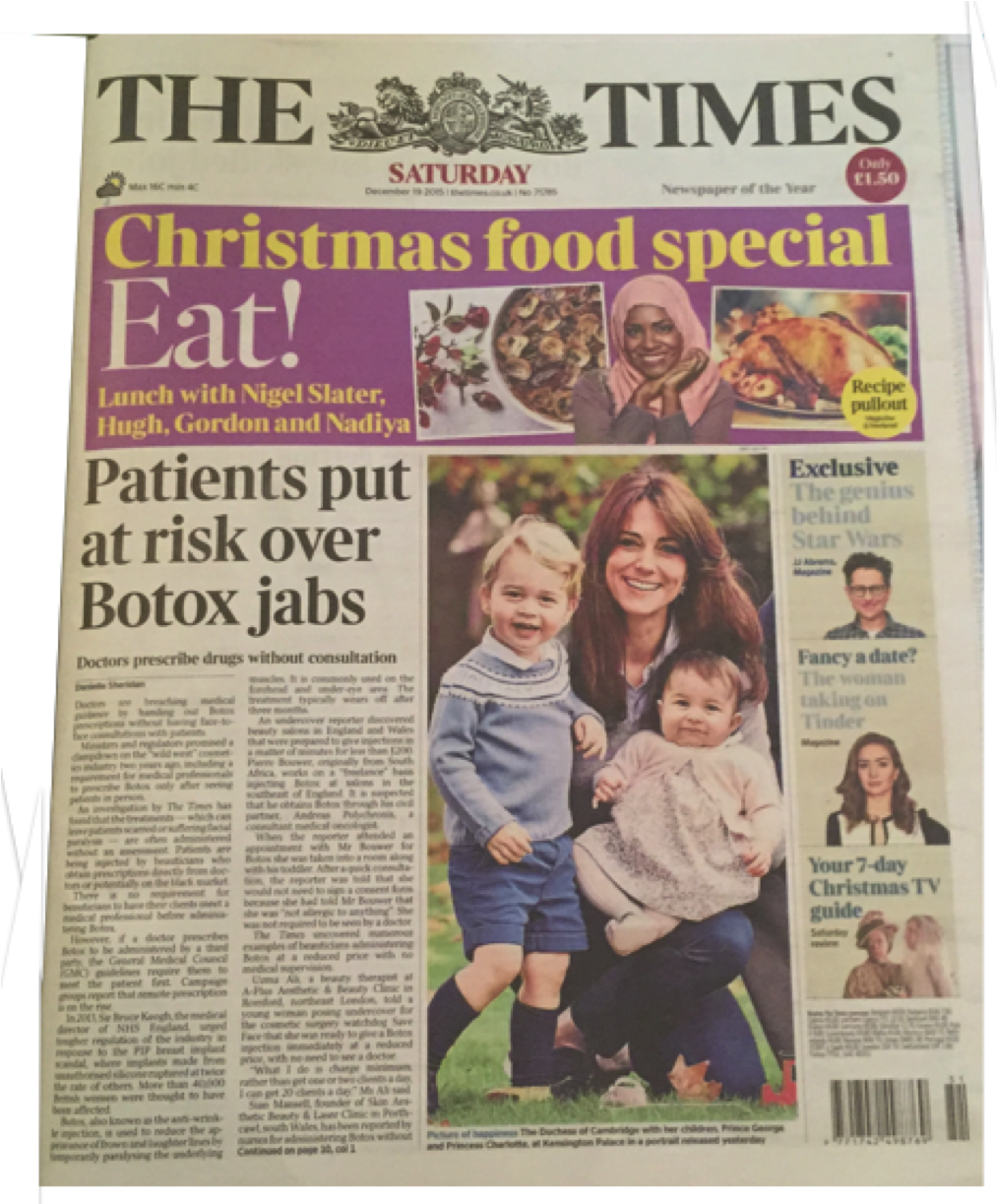 Doctors are breaching medical guidance by handing out Botox prescriptions without having face-to-face consultations with patients.
Ministers and regulators promised a clampdown on the "wild west" cosmetics industry two years ago, including a requirement for medical professionals to prescribe Botox only after seeing patients in person.
An investigation by The Times has found that the treatments — which can leave patients scarred or suffering facial paralysis — are often administered without an assessment. Patients are being injected by beauticians who obtain prescriptions directly from doctors or potentially on the black market.
There is no requirement for beauticians to have their clients meet a medical professional before administering Botox.
However, if a doctor prescribes Botox to be administered by a third party, the General Medical Council (GMC) guidelines require them to meet the patient first. Campaign groups report that remote prescription is on the rise.
In 2013, Sir Bruce Keogh, the medical director of NHS England, urged tougher regulation of the industry in response to the PIP breast implant scandal, where implants made from unauthorised silicone ruptured at twice the rate of others. More than 40,000 British women were thought to have been affected.
Botox, also known as the anti-wrinkle injection, is used to reduce the appearance of frown and laughter lines by temporarily paralysing the underlying muscles. It is commonly used on the forehead and under-eye area. The treatment typically wears off after three months.
An undercover reporter discovered beauty salons in England and Wales that were prepared to give injections in a matter of minutes for less than £200. Pierre Bouwer, originally from South Africa, works on a "freelance" basis injecting Botox at salons in the southeast of England. It is suspected that he obtains Botox through his civil partner, Andreas Polychronis, a consultant medical oncologist.
When the reporter attended an appointment with Mr Bouwer for Botox she was taken into a room along with his toddler. After a quick consultation, the reporter was told that she would not need to sign a consent form because she had told Mr Bouwer that she was "not allergic to anything". She was not required to be seen by a doctor.
The Times uncovered numerous examples of beauticians administering Botox at a reduced price with no medical supervision.
Uzma Ali, a beauty therapist at A-Plus Aesthetic & Beauty Clinic in Romford, northeast London, told a young woman posing undercover for the cosmetic surgery watchdog Save Face that she was ready to give a Botox injection immediately at a reduced price, with no need to see a doctor.
"What I do is charge minimum; rather than get one or two clients a day, I can get 20 clients a day," Ms Ali said.
Sian Mansell, founder of Skin Aesthetic Beauty & Laser Clinic in Porthcawl, south Wales, has been reported by nurses for administering Botox without having her patients seen by a doctor first. One nurse claimed that a doctor in Essex "gives her [Ms Mansell] stock" without "face-to-face medical consultation". Ms Mansell did not respond to requests for comment by The Times. It is not known how Ms Ali or Ms Mansell obtain their Botox.
Dan Poulter, the Conservative MP who was health minister at the time of the Keogh report, said it was "completely unacceptable for a doctor to write a prescription for a patient who hasn't been examined by a medical professional". He said: "Until we have proper regulation of high street practitioners of Botox, collagen and other cosmetic procedures we are going to have a situation where potentially a patient is put at risk and their appearance and lives could be affected for ever."
Niall Dickson, chief executive of the General Medical Council, said that it would follow up "as a matter of urgency". He said: "We expect all doctors to follow our guidance. Anyone who fails to do so is putting their right to practise medicine in jeopardy."
One doctor, Mark Harrison, has been struck off after it was discovered that he had "remotely prescribed" Botox to hundreds of nurses.
Ashton Collins, director of Save Face, an accreditation scheme for medical practitioners who provide non-surgical cosmetic procedures, warned the industry not to think that the issue had been "put to bed" by GMC reforms.
When The Times contacted Dr Polychronis to ask if he was remotely prescribing Botox for Mr Bouwer to administer, he said: "Every patient receiving botulinum toxin injections is personally assessed by myself to determine the suitability of this treatment. Having conducted my assessment, and having explained the risks of the procedure, patients sign a consent form. The botulinum is then injected by my practitioner Mr Bouwer under my direct supervision."
Dr Polychronis said that injectable cosmetic treatments did not take place during initial consultations without being assessed by him. Speaking on behalf of Mr Bouwer, he said that Mr Bouwer was "fully appraised of the GMC guidelines and assured me that our treatment protocol was followed and that, had you not left, you would have been referred to me for assessment prior to any treatment being provided. I have not breached any GMC guidelines."
Read the full article here