'Trust Me I'm a Nurse' – Save Face lead an Investigation with the BBC to expose a bogus nurse who claims to have administered botox and other non-surgical cosmetic treatments to over 10,000 patients in Wales.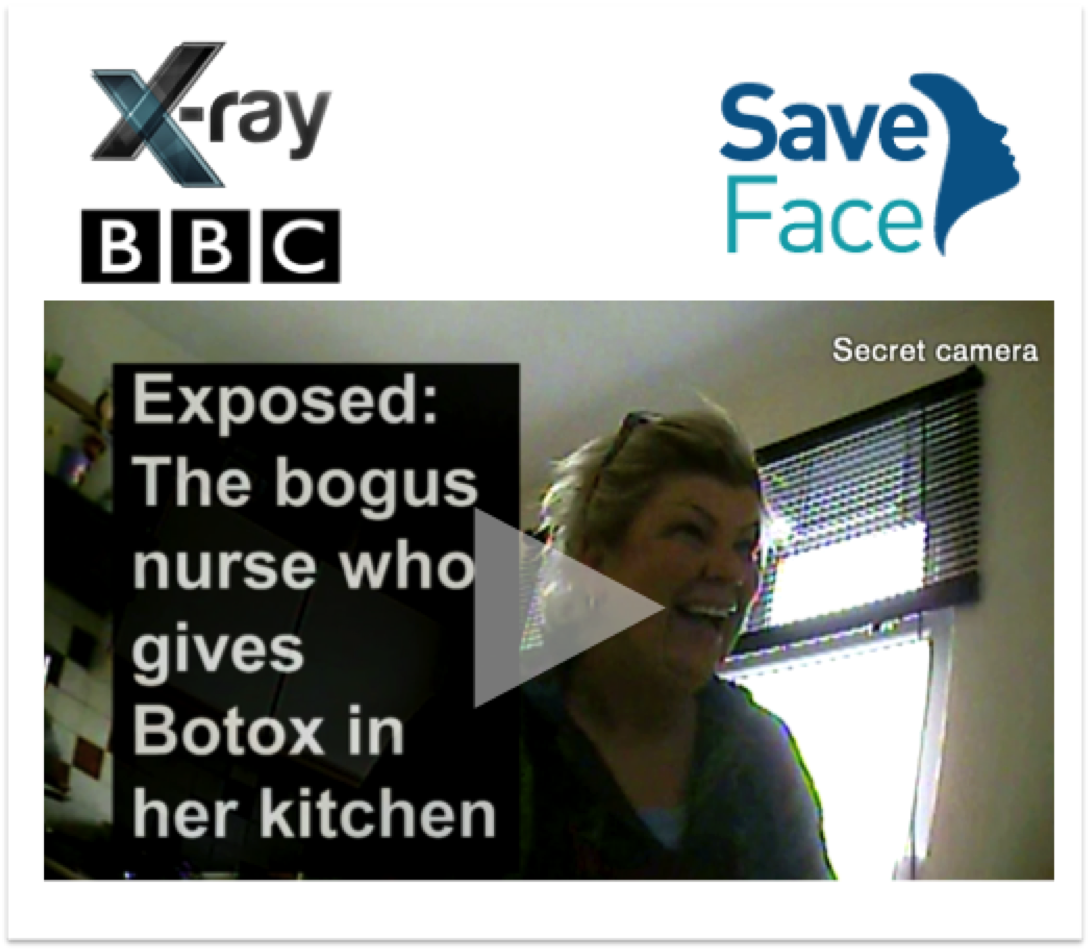 For the past several months Save Face have been working on an investigation with BBC 1's X-ray team to shine a light on the unscrupulous practice that is prevalent within the non-surgical cosmetic industry, bringing in to focus the key challenges consumers face when seeking to find a safe, reputable treatment provider.
Save Face, who operate a government recognised register of non-surgical cosmetic practitioners initiated the investigation following several reports from their accredited members who were seeing an increasing number of dissatisfied patients who had all undergone treatment with the same practitioner and had suffered complications from botched procedures.
The practitioner, Vivienne Baker who operates under the name 'Vizzy Bizzy' promotes herself a Registered General Nurse and a Harley Street trained cosmetic practitioner on her Facebook page where she regularly posts special offers and heavily discounted treatments.
Upon investigation Save Face quickly discovered that Ms Baker was not a nurse and had been illegally masquerading as a fully trained aesthetic nurse prescriber since 2008, forging certificates where she claimed to be accredited by the NHS and fabricating an employment record where she claimed to have held posts at several NHS trusts.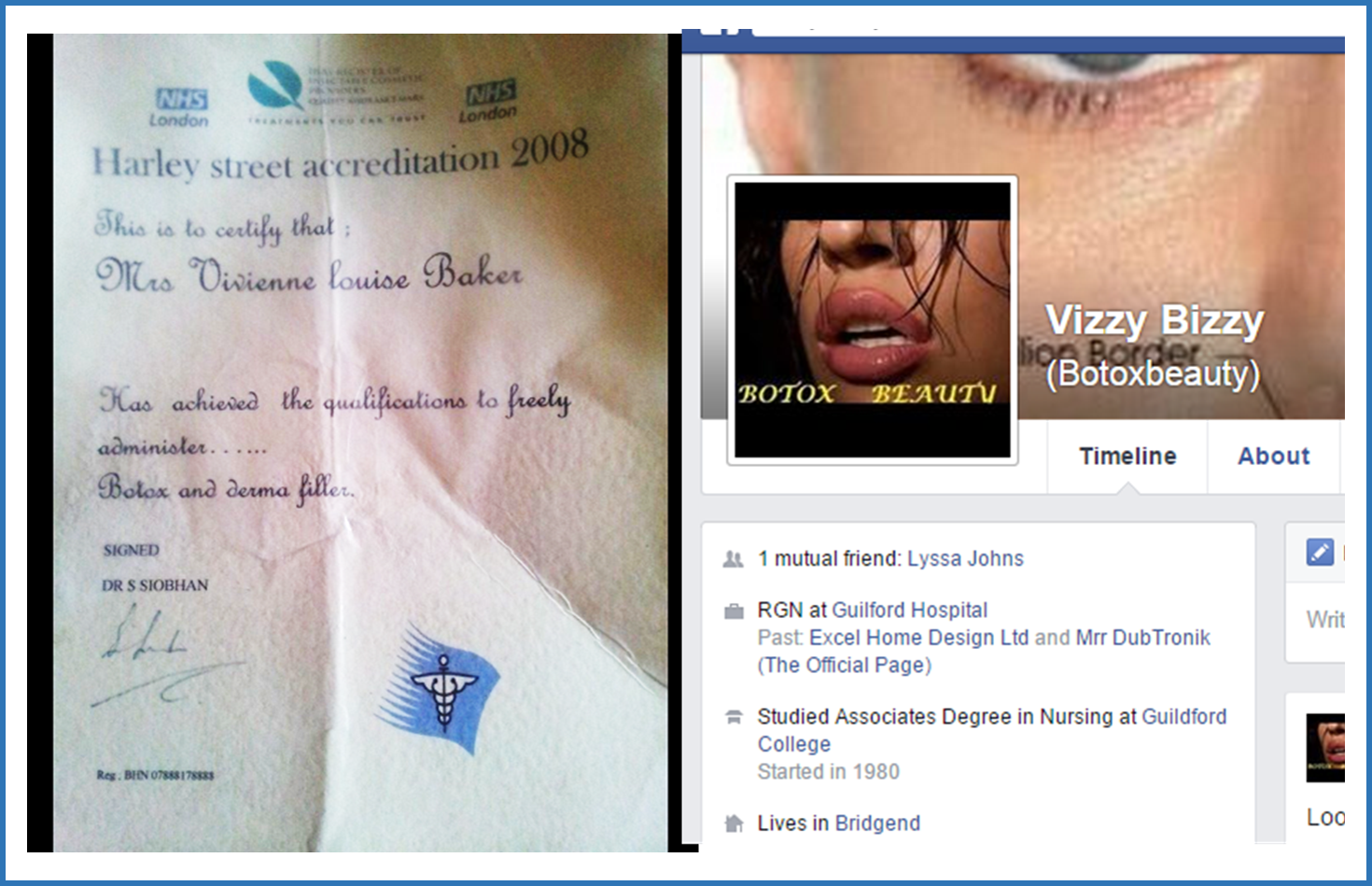 As the investigation continued the scale and severity of Ms Baker's actions become increasingly alarming. In addition to running clinics from her kitchen in Porthcawl, she was operating several 'Botox Parties' throughout South Wales where it was reported alcohol was freely consumed and patients were offered cut price treatments if they were willing to share syringes.
An undercover reporter, posing as a potential client filmed Ms Baker at her home in Porthcawl. The reporter was led through to the kitchen where Ms Baker proceeded to make several deplorable false claims to reassure the apprehensive reporter ahead of a Botox treatment. Among which included an elaborate description of her employment history at various hospitals and several dangerously inaccurate statements about the treatment, where she stated that 'Botox is completely risk free' and described the prescription only medicine as 'an anaesthetic for your skin'. Ms Baker who claims to have treated over 10,000 patients explained that the reason behind her success was her affordability and her desire to make these treatments available to everyone and claimed to have clients who pay her in weekly installments from benefit allowances.
Save Face Director, Ashton Collins, who conducted the initial investigation, has been working alongside the BBC throughout the investigation and will be featured on the show providing commentary on the shocking undercover footage. Ashton Collins said;
''Ms Baker has cunningly created a false persona to gain trust and confidence by masquerading as a registered healthcare professional. She has deliberately set out to deceive people, whilst knowingly compromising their health and appearance. It is evident that she has very little knowledge and understanding of the treatments she provides and the products that she uses. Although she has taken the time to falsify a nursing qualification and aesthetic training background she has not taken the time to research the treatments she has been injecting in to hundreds of faces.

If her knowledge of how the procedures work is so incorrect it's highly unlikely she'd have the first idea as to how to manage a complication. It is just sheer luck that her patients have escaped any serious complications.

To say that any cosmetic injectable treatment is completely risk free is a blatant fabrication, even in the most skilled and experienced hands complications can occur, which is precisely why we only accredit registered healthcare professionals who can manage them effectively. If we consider the number aggravating factors in this case; her lack of training and healthcare experience, where she's sourcing her products from and what on earth might be in them, and the unsuitable the environment in which the treatments take place, the risks of complications are seriously heightened.

These things in isolation are enough to compromise patient safety but combined it is a recipe for disaster! By treating patients under the false pretence of being registered nurse is legally considered as assault by misrepresentation of the facts, making the consent to treatment null and void.

I established Save Face so that patients could navigate their way to a safe pair of hands whom they know has been thoroughly assessed to meet a robust set of standards. ''
Sadly, this is not an isolated incident and is representative of the very real situation people regularly find themselves in throughout the UK. It is a startling reminder of how important it is for consumers not to take practitioners at face value.
This highly unregulated industry has become a hotbed for those wanting to capitalise on the lucrative earning potential from this £2.75bn industry which sadly comes at the cost of those that they treat.
With rogue, unqualified practitioners on the rise, the show is demonstrative of just how easy it is for people seeking treatments to fall in to the wrong hands. This case and so many others like it is a strong reminder as to why it essential to know that the practitioner you choose to visit for any non-surgical cosmetic procedure has all of the necessary qualifications, insurance and knowledge needed to deliver safe treatment outcomes.
Save Face is a Professional Standards Authority Accredited register of verified non-surgical cosmetic practitioners and is recognised by the government, The Department of Health, NHS England, The Care Quality Commission and Health Education England.
Without an accessible register like Save Face, which connects consumers seeking non-surgical cosmetic treatments with safe, verified and accredited practitioners the landscape of the industry will never change. The public will remain in a vulnerable position to be continuously targeted by these unscrupulous individuals with nothing to measure their suitability to provide treatments other than to take them at face value.
Save Face have established strong partnerships and affiliations with the UK's leading media outlets and regulatory bodies and we will continue to work tirelessly to expose bad practice and highlight the importance of our register to the public.
The 30-minute show was aired on Monday the 25th of July at 7:30pm on BBC 1 Wales. Click HERE to watch the Feature.