At Save Face we are committed to delivering updates to our users on the very latest treatments and trends, this week's hot topic is SILHOUETTE SOFT®. The treatment has been dubbed as the 'lunchtime face-lift' and is becoming increasingly popular.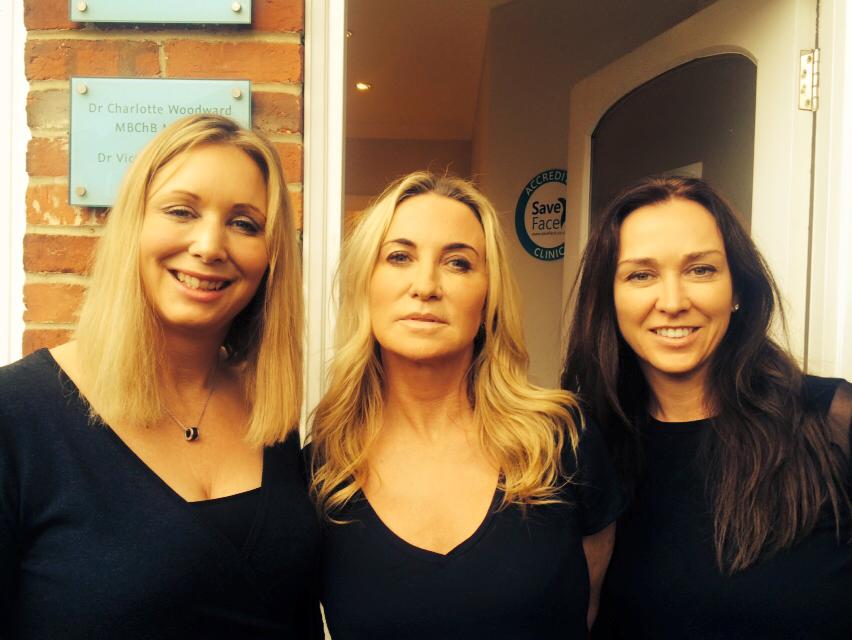 To get the lowdown on the treatment, we visited one of our accredited clinics, River Aesthetics in Lymington.
The clinic is one of the UK's leading thread-lifting clinics and is a center of excellence for non-surgical face-lifts. The clinic is run by Doctor duo Victoria Manning and Charlotte Woodward who have been practicing GPs for over 20 years and were delighted when they were hand-picked by Sinclair the company who owns SILHOUETTE SOFT®, to carry out the treatment on the lovely Meg Matthews. Meg was recently featured in The Sunday Times Style Magazine talking about her treatment and showcasing the wonderful results.
Meg's Story
During her consultation with the Doctors, Meg discussed what prompted her decision to have the treatment and what results she hoped to achieve. Meg said;
"I am turning 50 in March and every time I look in the mirror I see a crêpe neck and jowling. I am driving my family mad with talking about it. It will make everyone's life in my household better if I stop talking about it, so my kids and my partner wholeheartedly support what I am doing".
"I will be happy to take selfies again."
Meg wanted a completely natural result, she wanted to look well and refreshed not 'done'
Dr Victoria Manning said;
"Meg was the ideal patient, with minimal laxity but great skin and it's always lovely to make a beautiful woman more beautiful.

We discussed her concerns and her expectations first and ensured we were both singing from the same hymn sheet".
Dr Victoria Manning treated both her lower & mid face & her neck to address both the early signs of ageing and skin laxity.
Before & Immediately After her Treatment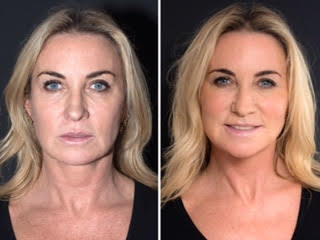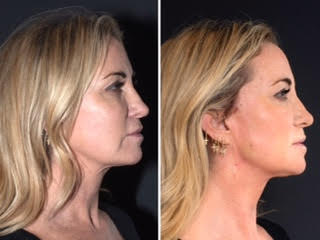 This was what Meg had to say after her treatment ……
"I love it. I feel great. In fact it is unbelievable. I already feel I have good chin definition. It took less than an hour and was not painful at all."

"I thought the team work at River Aesthetics was brilliant and I felt that I was in such good hands".

"There were no shocks, it was quite relaxing actually and not at all stressful."

"It is a great treatment and what I like about it is that it gets even better; your body does the work to make it look even better in time!".
After seeing the results, unsurprisingly SILHOUETTE SOFT® is now one of the clinics most sought after treatments and is the ideal alternative for anyone seeking a completely natural look without going under the knife. The treatment offers long lasting results, with very little downtime, and takes less than an hour, in fact the whole treatment can be carried out in your lunchtime.
This technological innovation for men and women can redefine your jawline and neck and will gradually restore volume in your cheeks to give you a natural, younger look.
How Does it Work?
Under local anaesthetic, this procedure takes between 30-60 minutes, is virtually pain-free and has very little downtime. A needle will insert very fine SILHOUETTE SOFT® threads beneath the subcutaneous layer of fat in your face. The threads, which are dotted with bi-directional cones, are pulled tight to further lift the sagging skin.
The cones help to make the skin more taught and also stimulate the natural production of collagen, which will gradually plump out the skin. SILHOUETTE SOFT® is a thread lift treatment with a double lifting and regenerating collagen effect.
Which parts of the body does it treat?
This procedure is particularly effective for contouring the lower part of your face and neck. It can be used to tighten your jaw line, reduce jowls, reduce wrinkles, plump sunken and sagging cheeks and it has a lifting effect on the neck.
How quickly will I see results?
You will see a lifting action immediately. The targeted area can be redefined by compressing and lifting the tissue for the desired look. Over the next few weeks and months you will see further improvements in the treated area because the poly-lactic acid will be re-absorbed into the skin which will boost its natural collagen.
Is it safe?
SILHOUETTE SOFT® was developed following six years of success in using this material in the use of suspension sutures with cones in reconstructive and aesthetic surgery. Poly-lactic acid has also been used for many years in various medical fields such as cardiology and bone fracture treatments.
Does it hurt?
Most patients say this procedure is relatively pain-free. Certain areas are slightly more uncomfortable than others. A local anesthetic is applied beforehand to minimise any discomfort. This is a 30-60 minute procedure whereby a needle is used to insert the SILHOUETTE SOFT® threads.
Will there be any side effects?
After the treatment, a slight swelling or bruising may occur. You may also see a few tiny dots of blood at the entry and exit points for the threads. Sometimes a slight depression or skin irregularity may appear at the entry points. These usually disappear a few days after treatment.
Should I avoid rubbing my face after the treatment?
Minimal make-up can be gently applied after 24 hours. We also recommend you sleep face-up, elevated on pillows for up to five nights and treat your face carefully (no shaving or rubbing) for five days. We would also recommend you avoid high impact sports, excessive facial movements (no dental treatment), over-exposure to direct sunlight or tanning beds for two weeks.
Be Safe Not Sorry with Save Face
As shown above, the results can be extremely impressive, but as with any non-surgical cosmetic treatment, complications can arise if carried out by an untrained practitioner.
If you're interested in having a non-surgical face-lift, it's vital to choose a fully-qualified professional who will be able to assess your case individually and provide you with the advice, care and follow-up consultations you need to stay safe.
Save Face is the only way for consumers to differentiate between professionally qualified practitioners and the unsafe and unethical.
Use the Save Face search engine today to search our register of Save Face Accredited Practitioners in your area, and stay safe, not sorry.