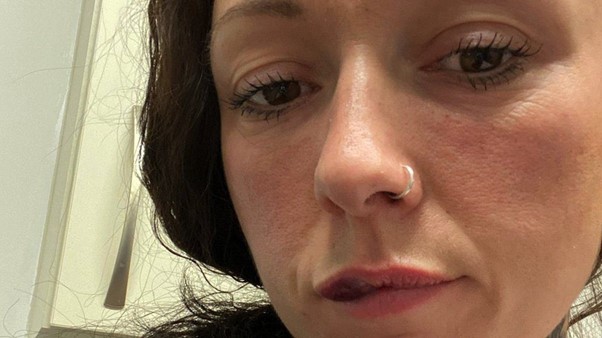 Laura says the rules do not go far enough to protect people - whatever their age[/caption]
Under-18s are no longer able to get botulinum toxin injections - often known as Botox - or dermal lip fillers for cosmetic reasons in England.
The new law aims to protect young people from harm after years of efforts to regulate the non-surgical beauty industry.
Campaigners say the rules do not go far enough.
The ban does not cover other procedures like thread lifts some seek to get the popular 'fox-eye' look.
Government estimates show up to 41,000 Botox-style procedures were carried out on under-18s in England last year.
And the analysis, by the Department of Health and Social Care, suggests there were up to 29,300 dermal filler procedures for under-18s in 2017.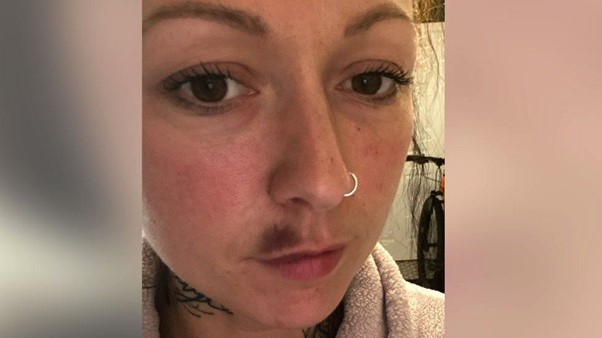 'My lip was massive and black'[/caption]
Laura Brooks is 34 and decided to get dermal lip fillers in December 2020 to make her lips look fuller. But the procedure went almost instantly wrong and she is still dealing with some of the fallout months later.
Laura says she chose to have the procedure partly because everyone else was doing it and also as she found a cut-price deal online.
But as the treatment got under way she could see the practitioner's face and knew something was wrong.
"I just saw this look on her face of panic and my heart started racing, and I could feel blood just trickling down the side of my face."
Laura says she could feel her lip becoming increasingly swollen, and her therapist tried massaging it and putting a cold pack on it.
She added: "My practitioner really panicked. She didn't know how to deal with that situation.
"My lip was massive and black and the underside was just filled with blood. I didn't know what to do. I wished it wasn't happening."
Laura quickly contacted a friend - who is medically trained - who explained it was likely that a vein had been damaged during the procedure.
Some of the swelling has now gone down, but some of the effects are still visible to Laura, nine months later.
She welcomes the change in the law, but says: "It is important for more to be put in place to protect everybody.
"There are women of all ages, and men I guess, having these treatments. It is not just the age thing. You should be medically trained.
"And until that is law, this is just going to continue to happen over and over again."
Before the new legislation came into place in England, under-18s were able to have Botox-style procedures and dermal fillers with no checks on their age.
Updates on legislation in Wales and Scotland are expected in the near future, while Northern Ireland has no current plans to make any changes.
Campaigners are calling on the other nations to act quickly to prevent young people in England travelling over the borders for treatments.
There remains no law in the UK requiring practitioners to have formal qualifications or training for this type of treatment.
Maria Caulfield, minister for patient safety, said she understood the constant pressure for people to look their best, but said: "Far too many people have been left emotionally and physically scarred by their experience, needing medical treatment after botched cosmetic procedures.
"Anyone considering these treatments should take the time to consider the impact on both their physical and mental health, and ensure they are using a reputable, safe and qualified practitioner."
MP Laura Trott, who called for the legislation change in Parliament, said: "No child needs cosmetic Botox or fillers and from today [Friday] they will no longer be able to walk into a clinic or someone's home and get a dangerous and unnecessary procedure that could ruin their lives.
"It will not fix the entirety of the problems in this industry, but it will make a real difference for under-18s."
But Ashton Collins, director of Save Face, a national register of accredited practitioners who provide non-surgical treatments, said the law needs to expand to incorporate all non-surgical treatment, like thread lifts (carried out to lift and tighten the face).
She told the BBC: "We are seeing loads of women coming forward who have had these treatments and it's gone wrong - because anyone can do these threads and they are quite invasive.
"Although medical professionals who provide these treatments have to be regulated by the Care Quality Commission, lay people and beauty therapists do not."
Campaigners say that while an age restriction is an important first step for the non-surgical cosmetic industry, there is still a long way to go, with customers aged over 18 as vulnerable as ever.
Save Face says restricting who can do non-surgical cosmetic treatments, introducing mandatory insurance and restricting who can set up training academies, would create a safer environment.
Similar concerns were seen in a recent BBC Three documentary which revealed complicated aesthetic procedures being taught over the internet or on unsafe one-day courses.