Are the villa stars to blame for the shock rise in cosmetic procedures?
Cult TV hit Love Island has been slammed for encouraging young Brits to seek cut-price cosmetic procedures, with figures from the NHS showing a six-ford rise in corrective surgery following botched ops. Tory minister, Jackie Doyle-Price blames reality TV, saying "Love Island puts across an unrealistic picture of body image. We also see it in The Only Way is Essex, everyone having lip fillers and boob jobs and hair extensions. The truth is we come in different sizes. People need to understand that all these procedures come with risk".
Ashton Collins, director of Save face – a national register of accredited practitioners – tells Closer, "We experience a huge spike in calls and web traffic to our site when Love Island is on – we get twice as many people looking for an approved practitioner, and four times as many people looking for help with complications and procedures gone wrong. People want to copy the enhanced features and are bombarded on social media by clinics.

"It gives girls an unhealthy perception of beauty. They see people on TV who've had procedures, realise they don't like that and believe they have to change the way they look"
Closer speaks to Saysha Williams who got lip fillers after watching the show – and now regrets it…
"I was hospitalised after botched lip fillers"
Singer Saysha Williams, 25, lives in Bruton, Somerset. She says "It doesn't surprise me that more people than ever are being influenced to get surgery after watching shows like Love Island – that's exactly what happened to me.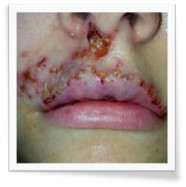 "Growing up, I had no issue with my lips. But once I started watching reality TV shows and saw girls with big pouty lips, I started to get a complex that mine were too thin and felt very insecure about my appearance.
"I decided on lip fillers, and though my family were against it, I ignored their concerns. In August 2016, a friend recommended a beautician, and I went along to a leisure centre where she rented a room. I didn't think to ask if she had the correct qualifications.
"I paid £200 for 2ml to be injected, which is the amount she suggested. She put some numbing cream on and then began injecting. The whole process felt very rushed – I wasn't asked to sign a consent form or given any warning about possible side effects.
"By the evening, lips were still numb, and by the following morning they'd turned purple and had cracked. Blisters were forming, and I couldn't eat or drink, and could barely speak. I was terrified and rang the NHS on 111. They sent an ambulance in case I was going into anaphylactic shock. It turned out to be a severe impetigo infection, caused by a lack of hygiene during the procedure. I needed strong antibiotics, and it took about three weeks for them to heal. Three years on, they're still really sensitive, and sometimes the scarring flares up. I wish I'd never had them done – looking back now, my lips were completely fine. I blame the pressure from Love Island and other celebs"
By Mel Fallowfield
Closer approached ITV about the claims. Their spokesperson said "All of this year's Islanders have a healthy BMI, and at no point has the show ever glorified or encouraged cosmetic surgery."
How to stay safe
Ashton Collins (Saveface.co.uk) says, You should really consider whether you actually need a cosmetic procedure. And if you visit a reputable practitioner and they refuse to treat you, it's because they have your best interests in mind. Don't pursue treatments with lots of providers, because there will always be an unscrupulous injector willing to exploit you, even when you aren't suitable to be treated. If you have researched the treatments properly and want to go ahead, don't be afraid to ask questions. Discuss your concerns and ask what products they use and what aftercare will be available. And don't be afraid to walk away if you don't feel comfortable."