IRRESPONSIBLE LAUREN COULD CAUSE LIFE-ALTERING INJURIES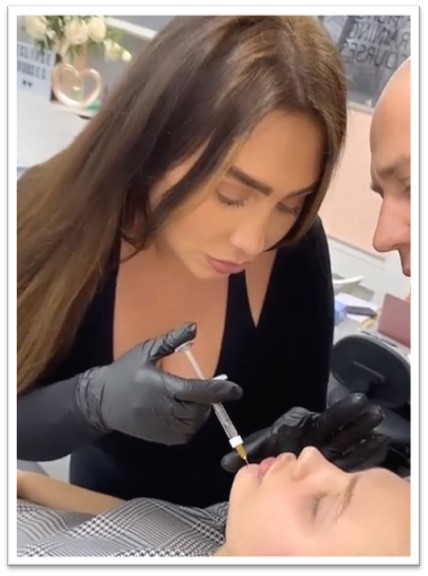 Lauren Goodger is injecting patients with filler at an Essex beauty salon – despite not being a qualified medical practitioner.

Industry regulator Save Face warns that non-medics increase risk of blindness, disfigurement, tissue loss and anaphylactic shock.

Lauren was left looking like 'The Mask' after having filler jabs.
She admitted she was left looking like Jim Carrey's character from The Mask after an unqualified friend injected her jaw last year. But Lauren Goodger – who has no medical qualifications – is now training to administer fillers at an Essex beauty salon.
The former TOWIE star, 33, has been on a two-day course 'accredited course' to learn how to cosmetically enhance lips, cheeks and the jaw line, and has posted snaps on her social media of herself injecting patients.
Although the substance is unregulated – meaning anyone can administer it – medical experts strongly urge the public to only allow doctors, nurses and pharmacists to do so. They insist that injections by those without medical qualifications (like Lauren) can cause an increased risk of complications.
After Lauren promoted her new skills to her 762k Instagram followers, Dr Laura Milligan of Optimise Medical Surgery, slammed her technique has incorrect, saying, 'She is holding the sterile needle in order to stabilise herself. Any professional could tell you this makes the needle dirty and hugely increases the chance of infection.'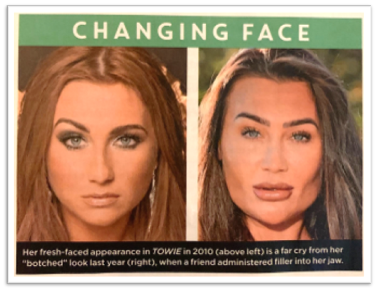 DISFIGUREMENT
She adds 'The correct technique would be to hold the face away from the injection point to stabilise your injection hand. Let's not forget that, if this patient developed an infection, she wouldn't be able to prescribe antibiotics to treat it an, and the patient would end up needing a professional to sort out her mess.'
Ashton Collins, director of Save Face – a regulatory organisation for accredited practitioners who provide non-surgical cosmetic treatments – also blasts her for taking risks, telling Closer, 'It is completely irresponsible for Lauren to communicate that she's on this training course' – which provides a beauty certificate rather than a medical qualification – to an audience that is probably young and impressionable.

'Lauren isn't a qualified practitioner. You can't fit a medical degree of three to six years into two days. Injecting substances into a person's face should only be carried out by healthcare professionals who have the minimum of three years medical training, giving them detailed knowledge of facial anatomy.

'This is extremely important, because if you drive filler into an artery, vein or blood vessel and compromise the blood supply to that area of the face, it can cause life-altering complications, including blindness and tissue loss.

'It can also cause necrosis – the death of the tissues or cells – which causes an area of your face to go black and has a frostbite-type appearance. And another concern is that someone could be allergic to a dermal filler and they could go into an anaphylactic shock, which can cause your airways to narrow, making it difficult to breathe. A non-medic life Lauren isn't properly trained to deal with any of these complications.'
Lauren had a nose job in 2011, a boob job in 2014, a Brazilian butt lift in 2017 and liposuction in 2018. She's also admitted to having filler and Botox over the years. Last year, she was forced to have her own botched filler dissolved from her jaw just three days after it was injected by a friend, who was not a registered nurse or doctor.
COMPLAINTS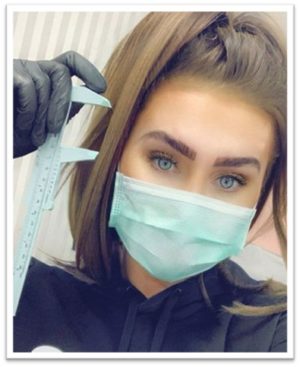 The results were so shocking Lauren vowed never to get it done again, saying, 'I looked like The Mask. Five days later, I got it dissolved. I'd never get filler in my face again.'
Of the 979 complaints Save Face received last year, 83 percent were for treatments carried out by beauticians, hairdressers and laypeople, and 72 percent related to dermal fillers. Eleven people were rushed to hospital due to complications, while over half of the complainants paid to have their botched jobs corrected.
Ashton adds, 'Lauren should know better – she's suffered a botched job. She's had these treatments reversed, so she knows it's not straightforward. While laypeople are often cheaper than surgeons, it can end up being more costly if it goes wrong, as they have to go to a professional to have it corrected.'