Reality stars spark a huge rise in the demand for cosmetic facial injections
Government Approved Register Save Face, warn of the lack of regulation with the procedure
Many untrained practitioners leave young women with damaging complications and no aftercare
Plastic surgery may be nothing new in the world of celebrity, but there now appears to be a shocking rise in the number of young stars dramatically transforming their looks with facial fillers.
Geordie Shore star Chloe Ferry was just 19 when she first joined the reality show in 2014 and started plumping her face with fillers just one year later – to the horror of many fans.
Opening up to Closer recently, the 23-year-old – who has since had filler in her lips, cheeks and chin, as well as a nose job and boob op – admitted she was suffering from body dysmorphia revealing
"People say I look good and I don't that I do. I look in the mirror and think I look f***ing minging."
FREE TREATMENT
But when asked about rumours she'd splashed a huge £50k on surgery, Chloe worryingly said,
"People offer me free filler all the time and IM not going to turn free lip fillers down."
Chloe's co-star Sophie Kasaei also recently told us, "People say we're crazy for getting surgery, but we get offered so much free treatment all the time. I may look like I haven't changed as much as the other girls, but I've had more filler than all of them put together."
But the filler craze isn't confined to the world of celebrity, Closer's Dr Christian Jessen says "There's been a huge rise in the number of young girls seeking out the procedure to emulate their favourite reality stars.
Yet despite the high demand for this treatment, there's no regulation in the UK with this procedure. Filler is usually made up of hyaluronic acid which, unlike anti-wrinkle injections such as Botox, doesn't require a prescription. Essentially a person can order filler online and start injecting into their own on another person's face with no licence or training. Young girls who want to emulate their favourite reality stars are often swayed by the cheap prices charged by these untrained people. But it's unregulated and that's where the danger lies."
Ashton Collins, from Save Face, an organisation that has developed a register of safe practitioners in the UK – tells Closer, Non-surgical cosmetic treatments generate over £2.75 billion in the UK, yet the sector is almost entirely unregulated. Legally non-surgical treatments such as fillers can be provided by anyone and practitioners aren't required to have any qualifications – medical or otherwise. In the past 12 months, we've received an alarming increase in the number of reports regarding procedures gone wrong and rogue practitioners. The most common complains are unsightly lumps, painful swelling and infection. Figures have almost trebled in comparison to the previous year with a total of 934. Over 83 per cent of the reports we've received were of treatments administered by non-healthcare professionals like beauticians and hairdressers. A huge 30 per cent of complaints we received were related to procedures being performed by people who had set themselves up with no relevant training and were believed to be purchasing products, such as dermal fillers – sometimes made of saline or even silicone – on the internet. There's no law preventing this, either. These people are often not trained on how to deal with someone having a bad or allergic reaction to the filler, or if they go into anaphylactic shock. And we've found if people do suffer adverse reactions and need medical attention, these businesses often shut down and disappear – leaving the girls with no aftercare".
INEXPERIENCED
"Surgeons should be bound by a code of ethics and ensure their patient is making an informed decision about the procedure and is not suffering from body dysmorphia. But these inexperienced practitioners appear to be administering filler to their clients as often as they like. As long as they are getting paid, they don't seem to care."
Opening up about the dark side of fillers, Geordie Shore star Abbie Holborn, 21, revealed to Closer, she felt she'd wrecked her natural looks after developing an unhealthy addiction to the procedure at just 19. She says "I think I looked better before. I was just getting fillers down because everyone around me was. The new thing was to get filler in your cheeks, or your jaw, your lips – anywhere really. I was just doing it because I felt I had to keep up. But I looked puffy, I looked big. I don't know what I wanted to achieve. I just wanted to keep up with everyone else."
And former Made in Chelsea star Daisy Robins says she "ruined" her natural beauty with lip fillers, admitting, "I began having filler in my lips every six months aged 21 and would go to a different person each time as they offered it for free – I don't know whether they were even qualified. It wasn't until I had comments saying I looked like I had a cleft-lip in my photos that I realised I'd gone too far and had ruined my lips."
'I had baby oil injected into my lips'
Mum-of-one Kerry Miles knows the Dark Side of Fillers Only Too Well
Model Kerry Miles was horrified when dodgy filler – which she now suspect was actually baby oil – left her lips swollen, and resembling raw meat. Now she's urging women to think carefully before going under the needle and to research practitioners thoroughly.
Kerry, 35, a model and promotor of Chelmsford says,
"Within a few hours of leaving the so-called clinic my lips blew up. They'd become so swollen, I thought they were going to burst. I barely left the house for three weeks until they'd gone down."

GRUBBY CLINIC
Kerry wanted plumper lips to give her a more youthful appearance. She explains "I just picked the first clinic that popped up on Google. It had good reviews, and the practitioner said she had 14 years of experience. But when I got there, it was a rundown house, and there was just a collapsible grubby-looking bed in the conservatory. There was even a dog running around. The woman wiped my lips with a baby wipe, and mixed the filler up in a bowl, before injecting it into my lips. Looking back, I should have run out of there, but I didn't know any better".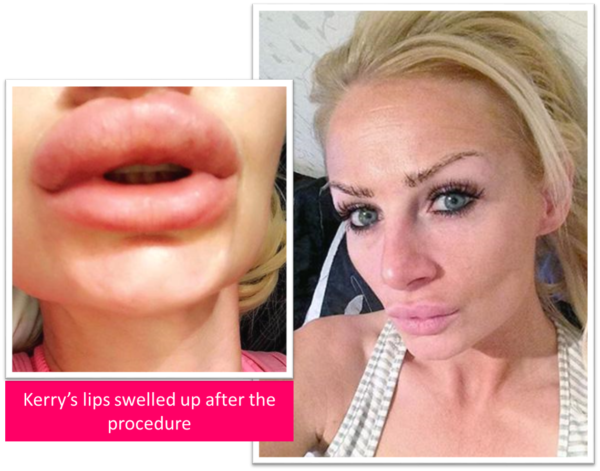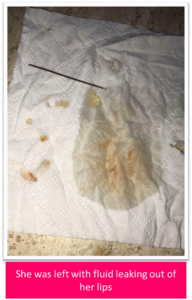 Within a few hours, Kerry noticed something was wrong. She says, "My lips were bumpy and uneven, and I noticed some of the filler was leaking out. I was in a lot of pain and it felt burning hot. I phoned her to complain, but she told me that I wasn't drinking enough water, and that I should be massaging my lips to get them to the size and shape I wanted." But soon, Kerry's lips had swollen to twice their size. "It was awful", she remembers. "I felt so stupid and I was too embarrassed for anyone to see me."

NIGHTMARE
Since then, Kerry has spent years trying to correct the damage.
She explains, "It's been a nightmare. I've had more filler, to try and hide the lumps and bumps I was left with, but it didn't work. In the end I had to have all the filler removed. It didn't dissolve like a normal filler because it was a mixture of substances and was injected incorrectly.

"When it was taken out, I was told that the filler appeared to have been mixed with some kind of baby oil. I couldn't believe it." But incredibly the horrific experience hasn't put Kerry – who's also had Botox, vampire face lifts and a nose job – off having lip fillers again.

"I still have lip fillers every four months because they make me feel young and beautiful. I model myself on Barbie, so I get procedures to look like her. But I would advise people to do their research, I even do a background check, calling up previous hospitals and clinics the practitioner says they have worked at. But most importantly, trust your instincts. If you go to a clinic, and it doesn't feel right, just leave. It's not worth it."
DO YOUR RESEARCH
If you are still determined to have fillers. Save Face advises you look at their list of registered practitioners first. They ensure their practitioners are licensed medical professionals – who are able to manage any complications from the procedure and won't leave patients in the dark regarding aftercare. They ensure the products the practitioners are using are licensed for the treatment, both are safe and effective, and that the clinic is hygienic to minimise risk of infection.
For more information; visit Saveface.co.uk