'I almost lost my nose – I will be scarred for life'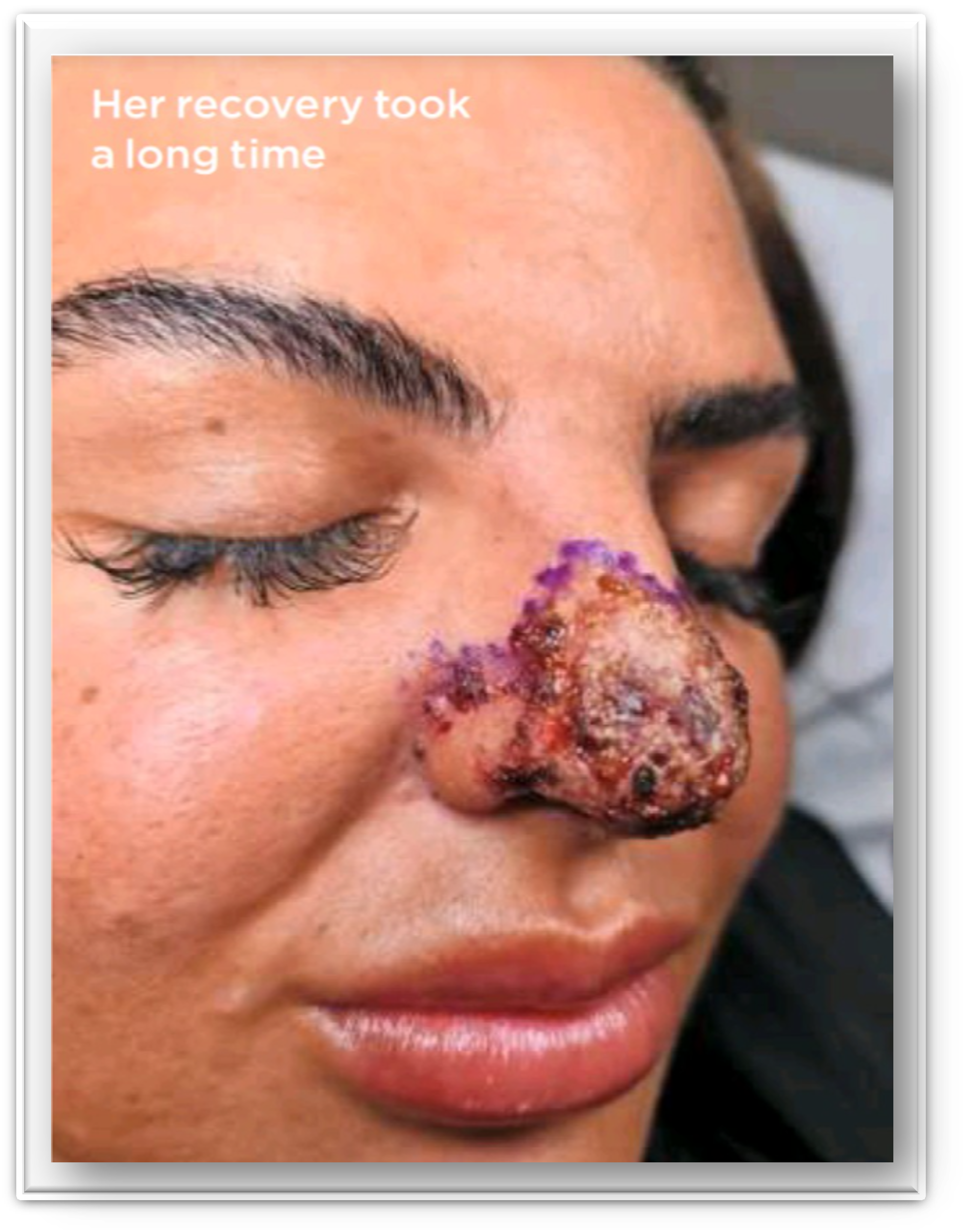 Leah Morton, 26, is single and lives in Liverpool. She says, "I started getting lip fillers when I was 20. Most of my peers had already had theirs done, and I loved the full pout look. I went to a beauty salon recommended by a friend, and it soon became as routine as getting my hair cut.
"I went to a few different places over the years, but in 2019, I found a salon online, owned by a nurse named Karen*. I was reassured by her medical qualifications, and with its pink interiors and flower wall, her salon looked like it had come straight out of Instagram. I had my lips topped up every six months, for £120, and never had any issues.
"But in April this year, I decided I wanted filler in my nose. I had a bump that I hated, and I'd seen so many videos on Instagram of non-surgical nose jobs using fillers. Karen said she could easily do it for £120. I had a good job at a bank, and was happy to pay the money to feel more confident.

AGONY
"It didn't occur to me that, before injecting filler into nose, Karen hadn't explained the risks of the procedure, such as vision loss and tissue death, or the aftercare required, such as looking out for blistering and skin discolouration. The fillers didn't hurt, but when I got in my car after my appointment, I looked in my rear-view mirror, and noticed the end of my nose was white. Then, the next day, I started to feel sick and, getting concerned, I texted pictures to Karen. She assured me nothing was wrong, but said she would ask her colleague to dissolve the filler for me, just in case.
"I got it dissolved, but it didn't seem to make a difference. In the days that followed, my nose went purple, then black, and little blisters began to appear on the tip. Every time I laid down, the pressure on my face was so intense, all I could do was cry in pain.
HORRIFIED
"My family wanted me to go to hospital, but Karen had urged me not to – saying that A&E doctors don't have experience with cosmetic fillers. She said the filler had been dissolved, and that the pain would eventually go away.
"But desperate and in agony,
I went online, and found a video of a girl like me, who'd had her nose filler dissolved at a clinic in London. I got in touch with them, and they recommended I get help from the Consultant Clinic, who specialised in dermal injections, and had a branch in Liverpool. I sent them my pictures, and within seconds, I received a phone call from a lady called Fiona. I was horrified when she told me I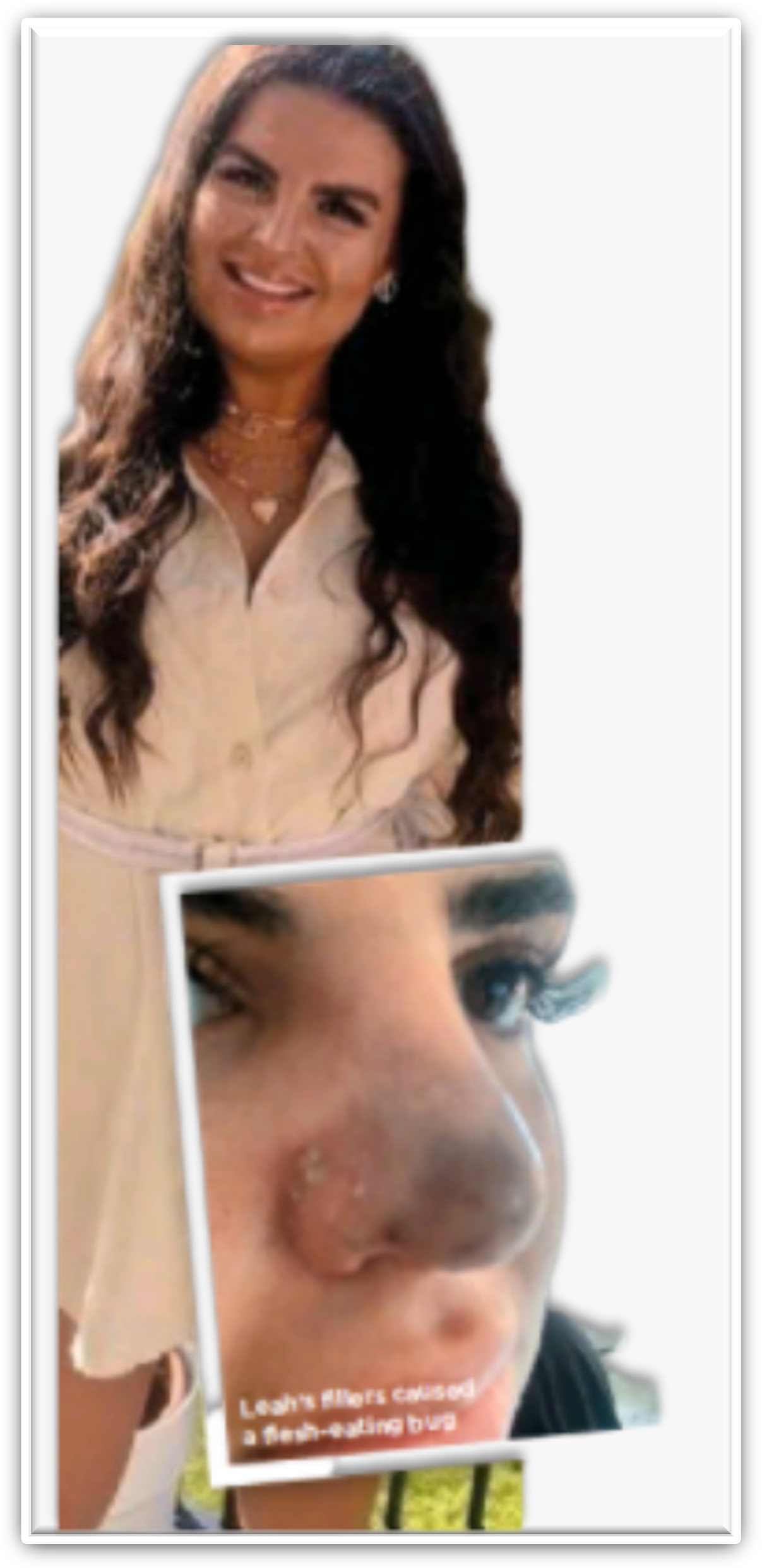 had necrosis, also known as a 'flesh-eating bug'. The fillers had been injected in a way that was cutting off the blood supply to my nose – and they hadn't been dissolved correctly. If they weren't removed immediately, I could risk losing my nose.
"The next few hours were a blur. The Consultant Clinic were able to dissolve the fillers, but they warned me I needed urgent antibiotics to fight the bug. I raced to A&E, and was put on a drip and given antibiotics and steroids.
"I stayed overnight in hospital and, thankfully, the doctors were able to stop the infection spreading – but my nose had been so severely damaged that doctors warned me I may have permanent scarring, or lose the tip of my nose. My only hope was hyperbaric oxygen therapy – a specialist form of treatment that increases the oxygen supply in the blood, which restores cells and promotes healing. I was relieved when a company who had read about my plight on my Instagram, got in touch and said they could offer me the therapy. Because my case was so severe, they were happy to do it for free.
ANGER AND LIES
"Since April, I've had 30 sessions of oxygen therapy, which each take three hours. I was given sick leave so it didn't disrupt my work. To begin with, I was so terrified that my nose would never heal, I refused to leave the house – except to have therapy – and I spent hours looking in the mirror, desperate to see some improvement.
"But, thankfully, after a few months, my nose started to heal. Now, while I still have some small scars, which I will have for life, I can cover them up with make-up.
"I haven't spoken to Karen since April, but it turns out she's not a nurse – she doesn't have any medical training whatsoever. I'm angry at her for lying to me. She's changed the name of her salon, and is still working. I'm still looking into taking legal action at the moment.
"I know it might sound crazy, but I think I'll continue to have lip fillers, as I've been having them for years with no problems. My family and friends still support me having lip filler, it's just taught us all to make sure we go to someone with the correct qualifications. And I'll think very carefully before I decide to have any other treatments. I thought getting filler wasn't a big deal, but fillers rotted my nose. Getting a substance injected into your face is serious, and you need to do your research before you even think about booking an appointment.
"It's time the government put some laws in place to make the industry safer. I got through this minor scarring – but not everyone will be so lucky."
'A 'quick fix' isn't worth risking your life for'
How to Stay Safe
Ashton Collins, Director at Save Face, says;
"People no longer associate fillers with the medical risks they carry. Too often, cosmetic treatments are viewed as something as simple as getting your nails done, but they can cause serious complications which include blindness and allergic reactions, which could be fatal if not managed correctly.

"Vascular occlusions are becoming increasingly common among inexperienced practitioners, this happens when filler blocks a blood vessel and could result in permanent tissue death.

Other complications include infections, lumps, bumps and nodules, and unwanted treatment outcomes which are often associated with the 'trout pout' appearance.

"It's important that your experienced practitioner is competent to identify and manage any complication, should it occur. If you're considering getting fillers, always visit a trained healthcare practitioner such as a doctor or a prescribing pharmacist, and use the Save Face practitioner checker to check them out first. Never choose a practitioner through social media alone and avoid the lure of cheap treatments – it may indicate that corners are being cut.

"Arrange a consultation and ask questions. Ask what products they use and what aftercare will be available. Don't be afraid to walk away if you don't feel comfortable."
For more information, or to check a practitioner, visit saveface.co.uk